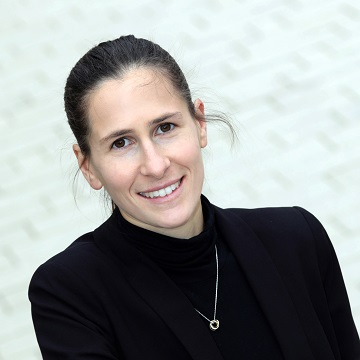 Gaja Amigoni
+ Principal Agile Coach at Boehringer Ingelheim
+ University Lecturer - Innovation Management and Entrepreneurship at Frankfurt School of Finance & Management
+ Design Thinking and Agile Management Coach, Lecturer and Consultant at Nudge & Leap
+ Co-Founder & General Manager at Artexpo22 srl
Follow Gaja on LinkedIn
Research Interests
Agile Management
Innovation Management
Leadership and Communication Strategies
Organizational Development & Change Management
Dr. Gaja Amigoni: Career Overview
Since 2015, Gaja works as an Agile and Innovation Management Coach, Lecturer and Consultant enabling organizations to embrace change and transformation. She conceptualized agile management trainings and lead projects for digital products development through the use of agile methods such as Design Thinking, Business Model Canvas, Lean Canvas, Lean Start-up, Kanban and Scrum in order to allow firms to fully embrace the digital transformation and to continuously innovate and adapt to the dynamism of current corporate world. She worked with stock-listed companies as well as with international entrepreneurs willing to turn ideas into concrete, successful businesses.
Gaja works as Workspace Design Consultant for the Berlin-based company Nudge&Leap, providing guidance to companies that believe in the physical environment as tool to foster employees´ creativity at work. Gaja had the chance to deepen her knowledge on workspace design by performing a doctoral research on the substantive and symbolic roles and effects of creative workspaces. After having completed an English-taught Graduate Programme in International Management at the Catholic University of Milan cum Laude, Gaja was granted a scholarship for a Co-Joint Doctoral Position promoted by the German Graduate School of Management and Law (Heilbronn) and the European University of Viadrina (Frankfurt-O). In cooperation with the firm Dark Horse Innovation, Gaja co-authored the book "New Workspace Playbook", which was published in 2018. The book provides an overview of the changing corporate scenario and offers practical advices on how to enable different approaches to work through the design of physical work environments. In 2021 she contributed the chapter on "Physical, Digital, and Hybrid Workspaces: From the Process of Creation to the Process of Use" published in the book "Dynamic Capabilities and Relationships", Springer.
Interested in user-centered approaches, in 2015 Gaja completed her advanced education in Design Thinking at the Hasso Plattner Institute of Potsdam. Gaja firmly believes that the application of this methodology, in combination with other agile methods, can be beneficial for Small and Medium-Sized Enterprises to innovate and (re)gain a competitive advantage. Gaja pursues this goal with Artexpo22 srl, her Italian-based company, which since 2017 is official partner of Nudge&Leap.
Since 2018, Gaja is a visiting professor for the Master in Digital Business Development, developed by the University of Bergamo. Since 2021, she is lecturer and module coordinator of Innovation Management and Entrepreneurship courses at the Frankfurt School of Finance & Management. In March 2022 she started working as Principal Agile Coach at Boehringer Ingelheim.